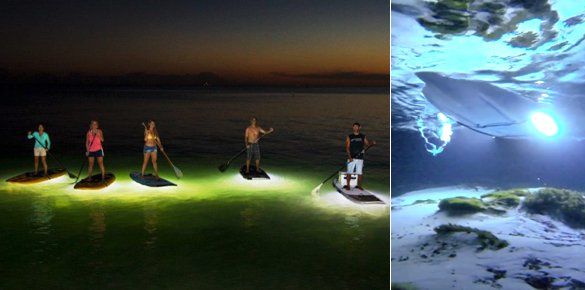 A new LED lighting system means that surf enthusiasts can now ride the waves even after the sun goes down. 
US water sports accessories company Nocqua have created an LED lighting system for paddleboards, which creates a halo of light against the water and the night sky.
The 2000 LED lighting system attaches to the underside boards to create a 360-degree light field, allowing the paddler to see in all directions after dark. The system includes two waterproof LED light bars, each containing 72 LEDs and together emitting more than 2,000 lumens.
Using a rechargeable, water-resistant lithium-ion battery, boards can remain illuminated for up to two hours at a time. And when the battery gets low; the power switch glows different colours to let the paddler know how much battery power is left.
A statement on the company's website explains: "The Nocqua 2000 LED lighting system reveals the wonders of being on the water at night in a way that simply cannot be experienced in the daylight hours.
"The thrill of being on the water under the stars, the connection with marine life below and a viewing experience like never before."
The Nocqua 2000 system, which can also be fitted onto kayaks and canoes, retails for $399.99 and extra batteries cost $59.99.